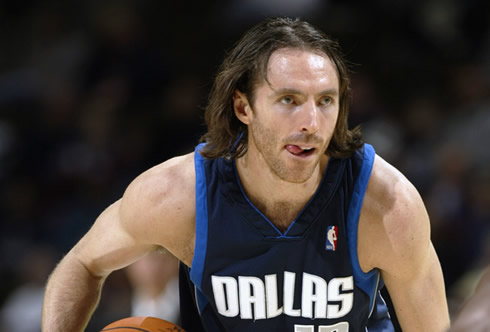 I remember walking into the Sport Chek at the Scarborough Town Centre when I was 10 or 11 years old, excited about my birthday. My cousin (who is more brother to me than cousin) wanted to get me something special for my birthday. Anything I wanted, pretty much. He's a generous dude.
Basketball jerseys were in. Everyone had a Kobe jersey (was he still #8 at that time?), or an AI, or a Shaq. My cousin, being a Dallas Mavericks fan, had a Nowitzki jersey, among others. Everyone had one, it seemed, except me.
Naturally, I gravitated towards the basketball jerseys in the Sport Chek. Man, every shape, size, colour I could think of were there. The Portland Trail Blazer red, white, and black pattern caught my attention (so much so that it became the second NBA jersey I owned). I knew I didn't like the Lakers. I knew I disliked every team that got in the Raptors' way of success, like the Knickerbockers or the 76ers. Frankly, having a Raptors jersey wasn't cool.
I finally stumbled upon a home, Dallas Mavericks jersey, size small. The colours, white with blue trim, were fabulous, but not the reason it caught my eye. The Mavericks logo came and went into my field of view. Before I could even check the name on the back, it was the number on the front that grabbed my attention: 13.
My soccer number! Probably my favourite number as a young adult. I gotta have this jersey, I thought. Who did it belong to, though?
Nash.
Hmm. Don't know him, but a jersey with my favourite number and colour that is a perfect fit seemed too good to pass up. Cousin, I found what I wanted! Who's Nash, though?
Oh man, what a loaded question.
One of the slickest passers this basketball universe has ever produced? The most unselfish player in the history of the game? The purest shooter?
That's Steve Nash.
The nooks and crannies he sees on the court, a regular player cannot. In his prime, he saw the court like Neo sees the Matrix. He could get the ball in the hoop seemingly at will. No one has been able to shoot the ball better since he burst onto the scene.
And he can attack you in so many different ways. Pick and roll, pick and pop, drive and kick, no look passes to big men who are just as shocked as the rest of the players on the court to have the ball reach them perfectly in their hands.
And he's Canadian to boot?
He's my favourite basketball player. He's retiring a legend. He awoke JAYSRAP from its hiatus.
And he's one of the main reasons why I fell in love with the NBA.
Shout the homie Steve Nash.