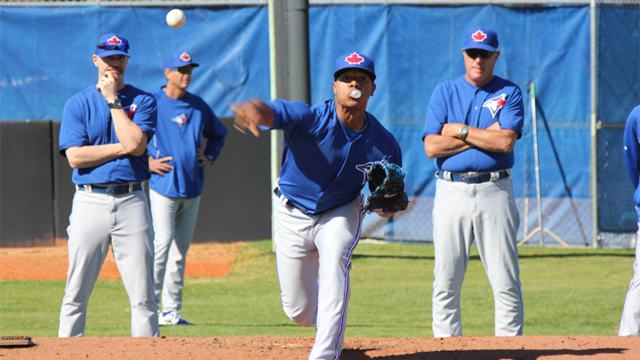 I should be studying for a midterm that I have in precisely 6 hours and 21 minutes, but something has been eating away at me and I can't hold it in any longer.
It has been a pretty strong narrative throughout the course of the offseason for the Toronto Blue Jays. It leaves me with a bitter taste in my mouth every single time it is brought up.
No, it isn't that lack of activity that I am getting at (though, duh, sign someone!), but the insistence on the part of the Jays that there be only ONE spot in the starting rotation up for grabs.
Yes, R.A. Dickey, Mark Buehrle and Brandon Morrow each have earned a spot in the rotation based on performance (not to mention their paycheques). That would still leave two spots open for which the likes of Marcus Stroman, Drew Hutchinson and Kyle Drabek can compete.
My beef is this: how is J.A. Happ being guaranteed a spot in the big league rotation? How do the Blue Jays expect to compete with a guy who has never pitched more than 170 innings in his career, who has had a rWAR over 1.0 ONCE, and who couldn't strike out a guy to save his life last season?
Now, I will say that J.A. Happ does in fact have more upside than I initially recognized, having pitched to a 2.93 ERA in 166 innings in 2009. I have a couple of issues with this stat, namely that he hasn't touched that level of productivity in a year with a similar workload since, and that those numbers came against a weaker NL East.
In a year and a half with the Blue Jays, Happ has put up a WAR of 0.4 and an ERA of 4.60 and a 1.414 WHIP. I will concede that injuries have hampered Happ's production and ability to perform. What I don't understand is how the Blue Jays can guarantee him a spot in the starting rotation with replacement-level numbers.
If the Blue Jays want to contend, they need to have pitchers with upside in their rotation. Marcus Stroman may be short, but has a sweet fastball that consistently sits 93-95 in his starts. Add to that a devastating slider, a slick cutter and a developing changeup, he has the makings of an above average starter, at least.


Drew Hutchinson has already shown he has the ability to perform at the big-league level with good command of all his pitches. He pitched very well on his way back from Tommy John surgery, and is ready to take on a bigger load on the 2014 Toronto Blue Jays.
Kyle Drabek is the biggest wildcard of all because he has some nasty, nasty stuff. Devastating fastball, curveball, slider with crazy life, he has it all. What he doesn't have is command. If he finds a way to limit walks at the big league level, he can be a lethal component to a future Jays rotation.
Happ has the upside of exactly none of these guys. Yet, he's given an automatic slot in the starting rotation. And the Blue Jays really expect the fans to buy that they're serious about contending? Cut it out, please.
I'll know the Blue Jays are serious about 2014 when J.A. Happ is the ace of the Buffalo Bisons.
Or when they actually get off their bums and sign somebody.
Not holding my breath for the former or the latter, though. Now back to studying.
Anybody have a calculator I can borrow?